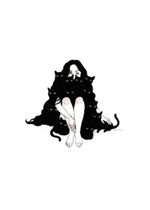 - 20 Mar 2020, 17:54
#2819588
Moram nešto da podelim, nema mnogo ljudi na forumu kontam ali nema veze.
Imam drugaricu koja radi u jednoj niškoj fabrici, redovno me izveštava o situaciji. Tragikomedija... Inače radi se u tri smene.Kad sam je pitala kako joj je...Kad treba da uđu u fabriku mere im kao temperaturu onim digitalnim toplomerima...Desilo se da mnogima izmere, pazite sad, 34 stepeni..a onda nekima 38, 39. Vadili su se da kada duva vetar ti toplomeri ne mere dobro pa su postavili šator da unutra mere. Kome i dalje bude 38,39, ostave ga malo napolju da se ohladi, pa mu/joj mere temperaturu sve dok ne pokaze manje. Kad se "ohladi" onda ga pustaju unutra da odmah radi. Vazno nikoga ne vracaju kuci...Oni sto imaju "34" su radosni.
Kad sam je pitala je l ima zastitu neku, kaze mi, nema, ima samo "nesto sto se navlaci na prste", rukavice nema uvek pa to koristi. Rekoh, ma sta navlacis to pobogu. "Ma, poslacu ti sliku veceras iz trece smene..." I poslala mi ovo:
"Sve te jeblo, navlacis kondome na prste!" Umrla sam, zajedno smo, smejale smo se kao blesave! Je-bo-te zivot, posao, sve u pm nek ide!
"Kako ti je sad na poslu?"
"Super, evo nema mi koleginice na traci, ima 60god - cekaju da se ohladi napolje, pa da je puste...."
I pustili je...
Najbolji biser je danasnji bio. Ispitivali ih je l kome neko dosao iz inostranstva: jednoj zet iz Kine, drugoj roditelji iz Beca, trecoj sin iz Italije....i sve uredno dolaze na posao. Ohlade pa puste.
Drugarica mi je jako draga, sama je trenutno sa detetom, suprug je jos pre toga otisao u Liban i nema dolaska do avgusta. Izgorele joj ruke od alkohola.