---
Abelove Henry, Michele Aina Barale i David Halperin:
Lezbejski i gej studijski prirucnik
---
The Lesbian and Gay Studies Reader, New York: Routledge, 1993, 666 str. sa bibliografskim beleškama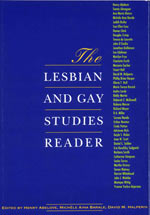 U ovom Zborniku je po prvi put predstavljen širok opseg gej i lezbejskih studija, neke od dobro poznatih naučnika, druge od strane novih autora, koje zahvataju raznoliki spektar tradicionalnih disciplina kao što su filozofija, klasične nauke, antropologija, sociologija, psihologija i politika sve do novijih oblasti istraživanja kao što su afro-američke studije, latino-studije, etničke i kulturne studije i istraživanja o AIDS-u i gej zajednici. Namera je bila da ova knjiga zauzme mesto u studijama o seksu i seksologiji analogan onom kojeg je Priručnik za ženske studije (Woman's Studies Reader) imao za studije o rodu, odnosno da istraži interese za lezbejke i gej ljude u strukturama istorijski čvršće etabliranih disciplina i da doprinese studiranju i razvoju savremene gej i lezbejske kulture.
Četrdeset dva eseja skupljenih ovde čine najveću i najiscrpniju kompilaciju radova objavljenih do tada koja se tiče lezbejskih i gej studijskih radova. Poduhvat je preuzet kako bi se odgovorilo akademskim potrebama sve većeg broja gej i lezbejskih seminara koji se održavaju na američkim institucijama visokog obrazovanja. Zbornik namerno izostavlja lična svedočanstva, artisticke reprezentacije, posebne književne studije i kreativna pisanja koja su bila sakupljena u drugim objavljenim radovima.
Tekst je podeljen u sedam odeljaka: politika i reprezentacija, spektakularna logika, subjektivnost, disciplina, otpor; korišćenje erotskog; koletivni identiteti/ disidentski identiteti i između stranica. 'Koristički vodič' uključuje grupisanje eseja prema disciplini. Priručnik se završava sa 'Predlozima za dalja citanja' zamišljen kao vodič za nastavak studiranja, podeljen na tipove materijala, izdvojene discipline i opsežne predmete. Medju dobro poznatim imenima čiji su članci ovde publikovani su

Eve Sedgwick Kosofsky

, Teresa de Lauretis,

Adrienne Rich

,

Audre Lorde

, David Halperin,

Judith Butler

, John D'Emilio, Yvonne Yarbro-Bejarano i Catherine R. Stimpson.

David Halperin
Joseph P. Consoli
Preuzeto iz: Thomas J. Whitby & Suzanne G. Frayser, Studies in Human Sexuality. A Selected Guide (2nd Edition), Engelwood, Colorado, 1995, str. 309-310.
SADRŽAJ:
Acknowledgments ix
Copyright Information xi
Introduction xv,
User's Guide xix
I POLITICS AND REPRESENTATION
1. Thinking Sex: Notes for a Radical Theory of the Politics of Sexuality 3
GAYLE S. RUBIN
2. Epistemology of the Closet 45
EVE KOSOFSKY SEDGWICK
3. Deviance, Politics, and the Media 62
STUART HALL
4. Some Reflections an Separatism and Power 91
MARILYN FRYE
5. Homophobia: Why Bring It Up? 99
BARBARA SMITH
6. One Is Not Born a Woman 103
MONIQUE WITTIG
7 Silences: "Hispanics," AIDS, and Sexual Practices 110
ANA MARIA ALONSO and MARIA TERESA KORECK
8. From Nation to Family: Containing African AIDS 127
CINDY PATTON
II SPECTACULAR LOGIC
9. Sexual Indifferente and Lesbian Representation 141
TERESA DE LAURETIS
10. Eloquente and Epitaph: Black Nationalism and the Homophobic Impulse in Responses to the Death of Max Robinson 159
PHILLIP BRIAN HARPER
11. Television/Feminism: HeartBeat and Prime Time Lesbianism 176
SASHA TORRES
12. Commodity Lesbianism 186
DANAE CLARK
13. The Spectacle of AIDS 202
SIMON WATNEY
14. Sontag's Urbanity 212
D.A. MILLER
15. "Just When You Thought It Was Safe to Go Back in the Water . .." 221
DANIEL L. SELDEN

III SUBJECTIVITY, DISCIPLINE, RESISTANCE
16. Compulsory Heterosexuality and Lesbian Existence 227
ADRIENNE RICH
17. Chicano Men: A Cartography of Homosexual Identity and Behavior 255
TOMAS ALMAGUER
18. Lesbian Identity and Autobiographical Difference[s] 274
BIDDY MARTIN
19. Toward a Butch-Femme Aesthetic 294
SUE-ELLEN CASE
20. Imitation and Gender Insubordination 307
JUDITH BUTLER
21. Spare Parts: The Surgical Construction of Gender 321
MARJORIE GARBER
IV THE USES OF THE EROTIC
22. The Uses of the Erotic: The Erotic as Power 339
AUDRE LORDE
23. The Boys in My Bedroom 344
DOUGLAS CRIMP
24. Looking for Trouble 350
KOBENA MERCER
25. Robert Mapplethorpe and the Discipline of Photography 360
RICHARD MEYER
26. Freud, Male Homosexuality, and the Americans 381
HENRY ABELOVE
V THE EVIDENCE OF EXPERIENCE
27. The Evidence of Experience 397
JOAN W. SCOTT
28. Is There a History of Sexuality? 416
DAVID M. HALPERIN
29. "They Wonder to Which Sex I Belong": The Historical Roots of the Modern Lesbian Identity 432
MARTHA VICINUS
30. "Lines She Did Not Dare": Angelina Weld Grimke, Harlem Renaissance Poet 453
GLORIA T. HULL
31. Capitalism and Gay Identity 467
JOHN D'EMILIO
VI COLLECTIVE IDENTITIES/ DISSIDENT IDENTITIES
32. Androgynous Males and Deficient Females: Biology and Gender Boundaries in Sixteenth- and Seventeenth-Century China 479
CHARLOTTE FURTH
33. The Bow and the Burden Strap: A New Look at Institutionalized Homosexuality in Native North America 498
HARRIET WHITEHEAD
34. Just One of the Boys: Lesbians in Cherry Grove, 1960-1988 528
ESTHER NEWTON
35. Hijras as Neither Man Not Woman 542
SERENA NANDA
36. Tearooms and Sympathy, or, The Epistemology of the Water Closet 553
LEE EDELMAN
VII BETWEEN THE PAGES
37. Double Consciousness in Sappho's Lyrics 577
OHN J. WINKLER
38. De-constructing the Lesbian Body: Cherrie Moraga's Loving in the War Years 595
YVONNE YARBRO-BEJARANO
39. When Jack Blinks: Si(gh)ting Gay Desire in Ann Bannon's Beebo Brinker 604
MICHTLE AINA BARALE
40. "It's Not Safe. Not Safe at All": Sexuality in Nella Larsen's Passing 616
DEBORAH E. MCDOWELL
41. Different Desires: Subjectivity and Transgression in Wilde and Gide 626
JONATHAN DOLLIMORE
42. The Somagrams of Gertrude Stein 642
CATHARINE R. STIMPSON
Suggestions for Further Reading 653
Prevod: N.