---
Alan P. Bell i Martin S. Weinberg:

Izveštaj Kinsey instituta o ženskoj i muškoj homoseksualnosti
---
Alan P. Bell and Martin S. Weinberg, Homosexualities: A study of Diversity Among Men and Women. New York: Simon & Schuster, 1978, 505 str. Sadži bilbiografiju i indeks.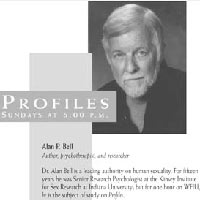 Studija spada u zvanične publikaciju Kinsey instituta za seksualno istraživanje (Kinsey Institute for Sex Research) ali je istraživanje naručio američki Nacionalni instititut mentalnog zdravlja. Ona predstavlja najsveobuhvatnije istraživanje homoseksualnosti od vremena Kinseya i njegovog čuvenog Izveštaja iz 1948. god. Na temelju face-to-face intevjua sa blizu 1500 lica, dve trećine crnih i belih muškaraca i jednom trećinom crnih i belih žena, u trajanju od deset godina, ovo jedinstveno istraživanje Bella i Weinberga će imati trajan uticaj na promenu društvenog pogleda na homoseksualnost.
Veći deo studije odnosi se na tri oblasti od kojih je svaka detaljno istražena:
1. dimenzije seksualnog iskustva (uključujući homoseksualna ponašanja i osećanja onako kako se ona povezuju sa Kinseyevom skalom), nivoi seksualnog interesa, aktivnost i otvorenost, kruzing, seksualno i emotivno partnerstvo, seksualne tehnike i problemi, stepeni samoprihvaćenosti i tipologija seksualnog iskustva u pet katerogija;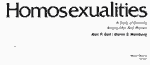 2. socijalna prilagođenost homoseksualaca izražena kroz pitanja posla i karijere, religijskih, političkih i društvenih aktivnosti, brak i prijateljstvo i istraživanje socijalnih teškoća.
3. psihološka prilagođenost homoseksualaca merena takvim činiocima kao što su opšte zdravlje, sreća, psihosomatski simptomi, samoprihvatanje, usamljenost, napetost, depresija, životna radost i drugi.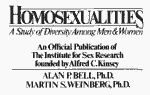 Bell i Weinberg iznose da rezultati njihovog istraživanja medju najraznolikijom homoseksualnom populacijom treba da služe zakonodavcima koji su uključeni u dekriminalizaciju homoseksualnog ponašanja, gej aktivistima koji se bave problematikom ljudskih prava, nadležnima u vladi i u poslovanju, seksualnim edukatorima, sveštenstvu i savetnicima. "Istraživanje u potpunosti pokazuje da mali broj homoseksualaca muškaraca i žena odgovara užasnim stereotipima koje većina ljudi ima o njima... Homoseksualnost nije nužno povezana sa patologijom". Autori izražavaju nadu da će njihovo delo pomoći u eliminisanju netrpeljivost prema homoseksualcima koje je bazirana na strahu i neznanju i da će biti zamenjeno poštovanjem i uvažavanjem gej ljudi.

Neil Woodward
Iz: Thomas J. Whitby & Suzanne G. Frayser, Studies in Human Sexuality. A Selected Guide (2nd Edition), Engelwood, Colorado, 1995, str. 310-311.
Prevod: N.
Sadržaj/ Contents
Preface 9
Background and Acknowledgments 13
Part I / Introduction
Rationale 19
Methods of Investigation 26
Study Site 27 / Sampling Procedures: Recruiting Homosexual Respondents 29 / Recruitment Sources 30 / Recruitment Pool 33
/ Sizes of Our Samples 34 / Homosexual Respondents: Demographic Characteristics 35 / The Selection of Heterosexual Respondents 37 / Heterosexual Respondents: Demographic Characteristics 38 / Interview Schedule Development 40 / Interviewing Procedures 42 Interviewers 42 / Postinterview Contacts 44 / Ethnographic Procedures 45 / Reliability and Validity 45 / Statistical Procedures 46
Part II / Dimensions of Sexual Experience 49
The Homosexual-Heterosexual Continuum 53
Findings: Men: Kinsey Ratings: Behaviors 54 / Kinsey Ratings: Feelings 56 / Kinsey Ratings: Behaviors and Feelings 56 / Summary 57 / Findings: Women: Kinsey Ratings: Behaviors 57 / Kinsey Ratings: Feelings 59 / Kinsey Ratings: Behaviors and Feelings 59 / Summary
60 / Overview 60
Overtness 62
Findings: Men: Familial Overtness 63 / Extrafamilial Overtness 64 / Summary 65 l Findings: Women: Familial Overtness 66 / Extrafamilial Overtness 66 / Summary 67 / Overview 67
Level of Sexual Activity 69
Findings: Men 70 / Summary 70 / Findings: Women 71 / Summary 71 / Overview 72
Cruising 73
Findings: Men: Incidence of Cruising 75 / Frequency of Cruising 75 / Cruising Style 76 / Where Sex Takes Place 77 / Time Sperrt with Partner 77 / Cruising Worries 77 / Summary 78 / Findings: Women 79 / Overview 79
Sexual Partnerships 81
Findings: Men: Sexual Partners 85 / Affairs 86 / Summary 92 / Findings: Women: Sexual Partners 93 / Affairs 94 / Summary 100 / Overview 101
Sex Appeal 103
Findings: Men 104 / Summary 104 / Findings: Women: 104 / Summary 105 / Overview 105
Sexual Techniques 106
Findings: Men: Incidence of Techniques Employed 107 / Frequency of Techniques Employed 108 / Favorite Sexual Technique 108 / Summary 109 / Findings: Women: Incidence of Techniques Employed 109 / Frequency of Techniques Employed 109 / Favorite Sexual Technique 110 / Summary 110 / Overview 110
Level of Sexual Interest 112
Findings: Men: 113 / Summary 114 / Findings: Women: 114 / Summary 115 / Overview 115
Sexual Problems 116
Findings: Men: Incidence of Sexual Difficulties 117 / Severity of Sexual Difficulties 118 / Incidence of Venereal Disease 118 / Summary 118 / Findings: Women: Incidence of Sexual Difficulties 119 / Severity of Sexual Difficulties 119 / Incidence of Venereal Disease 119 / Summary 119 / Overview 120
Acceptance of Homosexuality 121
Findings: Men: Regret of Homosexuality 122 / Attempts to Discontinue Homosexuality 123 / Negative Feelings About Homosexuality 124 / Summary 125 / Findings: Women: Regret of Homosexuality 125 / Attempts to Discontinue Homosexuality 126 / Negative Feelings About Homosexuality 127 / Summary 127 / Overview 127
A Typology of Sexual Experience
Men 132 / I. Close-Coupled 132 / II. Open-Coupled 133 / 111. Functional 133 / IV. Dysfunctional 134 / V. Asexual 134 / Women 134 / I. Close-Coupled 135 / 11. Open-Coupled 135 / III. Functional 136 / IV. Dysfunctional 136 / V. Asexual 137 / Overview 137
Part III / Social Adjustment
Work
Findings: Men: Job Stability 143 / Job Satisfaction 143 / Effect of Homosexuality an Career 143 / Summary 145 / Findings: Women: Job Stability 146 / Job Satisfaction 146 / Effect of Homosexuality an Career 146 / Summary 147 / Overview 148
Religiousness
Findings: Men: Religiosity 151 / Church Attendance 151 / Effect of Homosexuality an Religious Feelings 151 / Summary 152 / Findings: Women: Religiosity 152 / Church Attendance 152 / Effect of Homosexuality an Religious Feelings 152 / Summary 153 / Overview 153
Politics
Findings: Men: Political Affiliation 156 / The Liberal-Conservative Continuum 156 / Political Involvement 157 / Effect of Homosexuality an Political Stance 157 / Summary 157 / Findings: Women: Political Affiliation 158 / The Liberal-Conservative Continuum 158 / Political Involvement 158 / Effect of Homosexuality an Political Stance 158 / Summary 159 / Overview 159
Marriage
Findings: Men: Incidence of Marriage 162 / Nature of the First Marriage 162 / Sex During the First Marriage 162 / Ending of the First Marriage 163 / Children 164 / Summary 165 / Findings: Women: Incidence of Marriage 166 / Nature of the First Marriage 166 / Sex During the First Marriage 166 / Ending of the First Marriage 167 / Children 168 / Summary 168 / Overview 169
Friendships
Findings: Men: Number of Friends 173 / Nature of Friends 173 / Differences in Attitudes Toward Men and Women 174 / Summary 174 Findings: Women: Number of Friends 175 / Nature of Friends 176 / Differences in Attitudes Toward Men and Women 176 / Summary 178 Overview 178
Social Activities
Findings: Men: Time Alone 181 / Time at Home 181 / Contact with Friends 182 / Entertainment and Sports 182 / Bar Attendance 182 /
Gay Baths 182 / Homophile Organizations 183 / Summary 183 / Findings: Women: Time Alone 183 / Time at Home 184 / Contact with Friends 184 / Entertainment and Sports 184 / Bar Attendance 184 / Gay Baths 184 / Homophile Organizations 185 / Summary 185 / Overview 185
Social Difficulties
Findings: Men: Arrests 189 / Extortion 189 / Assault and Robbery 190 / Blackmail 190 / Summary 191 / Findings: Women: Arrests 191 / Extortion 192 / Assault and Robbery 192 / Blackmail 192 / Summary 193 / Overview 193
Part IV / Psychological Adjustment
Findings: Men: General Health 198 / Psychosomatic Symptoms 198 / Happiness 199 / Exuberance 199 / Self-Acceptance 199 / Loneliness 200 / Worry 200 / Depression 200 / Tension 201 / Paranoia 201 / Suicidal Feelings and Impulses 201 / Professional Help 203 / Summary 207 l Findings: Women: General Health 208 / Psychosomatic Symptoms 208 / Happiness 208 / Exuberance 209 / Self-Acceptance 209 / Loneliness 209 / Worry 209 / Depression 210 / Tension 210 / Paranoia 210 / Suicidal Feelings and Impulses 210 / Professional Help 212 / Summary 215 / Overview 215
Part V / A Concluding Overview
Close-Coupleds 219 / Open-Coupleds 221 / Functionals 223 / Dysfunctionals 225 / Asexuals 226
Epilogue
Appendix A: Ethnography of the Bay Area Homosexual Scene
Residence Patterns 233 / Cruising 236 / Gay Bars 236 / Gay Baths 239 / Public Places 241 / Tearooms 243 / Work 245 / Employment Opportunities 245 / Gay Businesses 246 / Friendships 247 / Social Activities 249 / Gay Bars and Restaurants 250 / Parties 259 /
Motorcycle Clubs 262
Appendix B: Elaboration of Typology Procedures 265
Appendix C: Tables 269
Bibliography 483
Contributors to the Study 491
Index 495

Uskoro u Gejtenu